At St. Matthew we know that it can be a sacrifice to afford tuition and other fees related to attending St. Matthew. For over 70 years the congregation of St. Matthew Lutheran Church has put an emphasis in the ministry of a day school. We are blessed that the Congregation puts most of the financial burden on its own members through weekly tithing and givings.
Early Learning Center (Preschool) Tuition and information is located here
Registration Fees

Registration will be accepted on 60-day probation and all outstanding balances from the previous school year must be paid in full before registration is final. Each registration includes one yearbook and one theme T-shirt for each student enrolled per family. Technology Fee: $100 for each child enrolled with a max of $200 per family.
Technology Fee is used towards the yearly maintenance fees for our online grading and record-keeping systems. It is also used to enhance the infrastructure and hardware of our wi-fi, inter/intranet, and the purchase of new technologies.
Each family is required to donate 12 hours of service to promote fellowship and ownership at St. Matthew. In lieu of working all 12 volunteer hours, a family can choose to make a once-yearly payment of $200.
SCRIP is just one of the ways we keep costs down. We want all families to pledge to earn at least $100 in profits from our SCRIP/Kroger Rewards programs.
TUITION RATES

Tuition Payment Schedule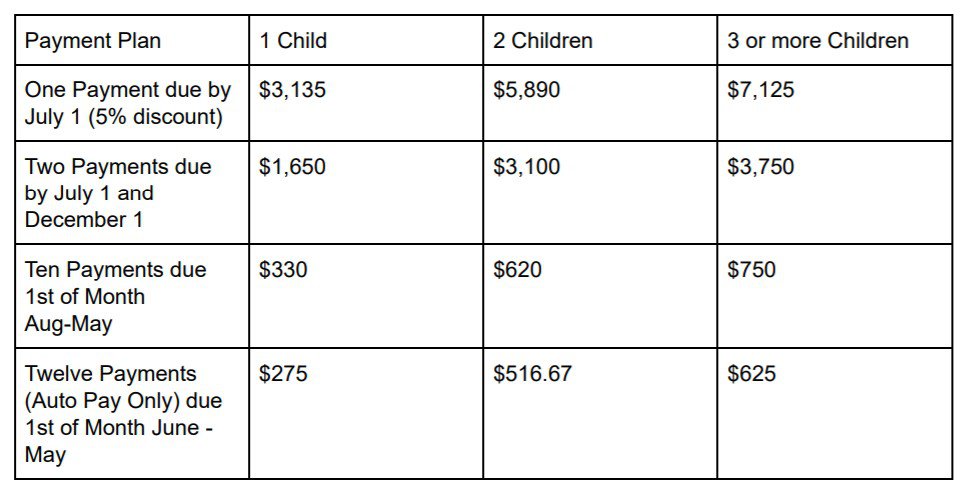 Cost to educate each child is $7,900
SAVE 25% - Refer a NEW family to St. Matthew School or Preschool and you and the family will each receive a 25% discount per student referred (refer one student, get 25% off one of your children's tuition; refer two students, get 25% off two students.)